Want To Learn More About Your Website Analytics?
We are always working to make our clients' experience better. With access to our Website Analytics Platform, we will help you gain insight into how your website is performing and how your customers are interacting with your website and social media profiles. We will design and build a custom dashboard to report your Google Analytics Data, Google My Business Account Data, and Facebook user engagement. We believe at 34 North, that if you can measure it, you can manage it. Below you will find an example of what that analytics dashboard will look like.
*In order to set up a custom analytics page, you will need to have a maintenance & support plan with 34 North.
"What gets measured, gets managed"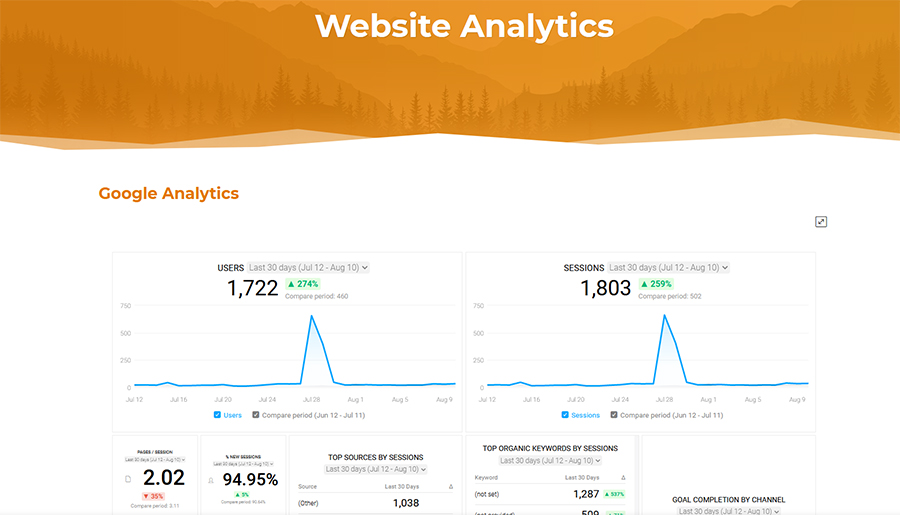 Our Website Analytics Platform is an add-on feature to your existing support & maintenance program. There is a $200 setup fee to build out the analytics platform. Then your cost is $15 per month to maintain access to this Analytics Platform. This will be billed quarterly along with your support & maintenance program.
Website Analytics Registration Form
If you are ready to build a custom analytics dashboard, please take a few moments to fill out the Registration Form below. We only use this information to update our company records. Once we review your information, we will reach out to discuss how we can better serve your business.
Thank you for your time and the opportunity to work with your business.
Sincerely,
Jesse Williams