Do you need Domain Privacy?
A question that I often get when talking with a client about costs and site development is, Do I Need Domain Privacy? We're here to help answer that question for you and to provide you with a little bit of insight into what exactly that means.
Domain privacy is a service offered by a number of domain name registrars. A user buys privacy from the company, who in turn replaces the user's information in the WHOIS database with the information of a forwarding service (for email and sometimes postal mail, it is done by a proxy server).
Who is WHOIS?
Every year, millions of individuals, businesses, organizations, and governments register domain names. Each one must provide identifying contact information, which may include: name, address, email, phone number, and administrative and technical contacts. This information is often referred to as "WHOIS data." The WHOIS service is not a single, centrally-operated database, instead, the data is managed by independent entities known as "registrars" and "registries." Any entity that wants to become a registrar must earn an ICANN (The Internet Corporation for Assigned Names and Numbers) accreditation. Similarly, registries are under contract with ICANN to operate a generic top-level domain, such as .COM, .ORG, or one of the new gTLDs such as .STORAGE and .LINK.
Is my personal data safe?
Without domain privacy, your personal information including your name, phone number, email address, and physical address on file with your registrar, will be shown to anyone who searches your web address through a "WHOIS" lookup such as lookup.ICANN.org. The WHOIS lookup makes it possible for anyone to locate the actual owner of any website, from anywhere in the world! This can expose site owners' contact information to abuses of all kinds, ranging from an onslaught of spam and direct marketing campaigns to cyberstalking, threats, and identity theft.
Below you can see an example of a WHOIS Lookup for our website. As you can see, our domain privacy wipes out any personal contact information. Any information shown belongs to out hosting provider at InMotion.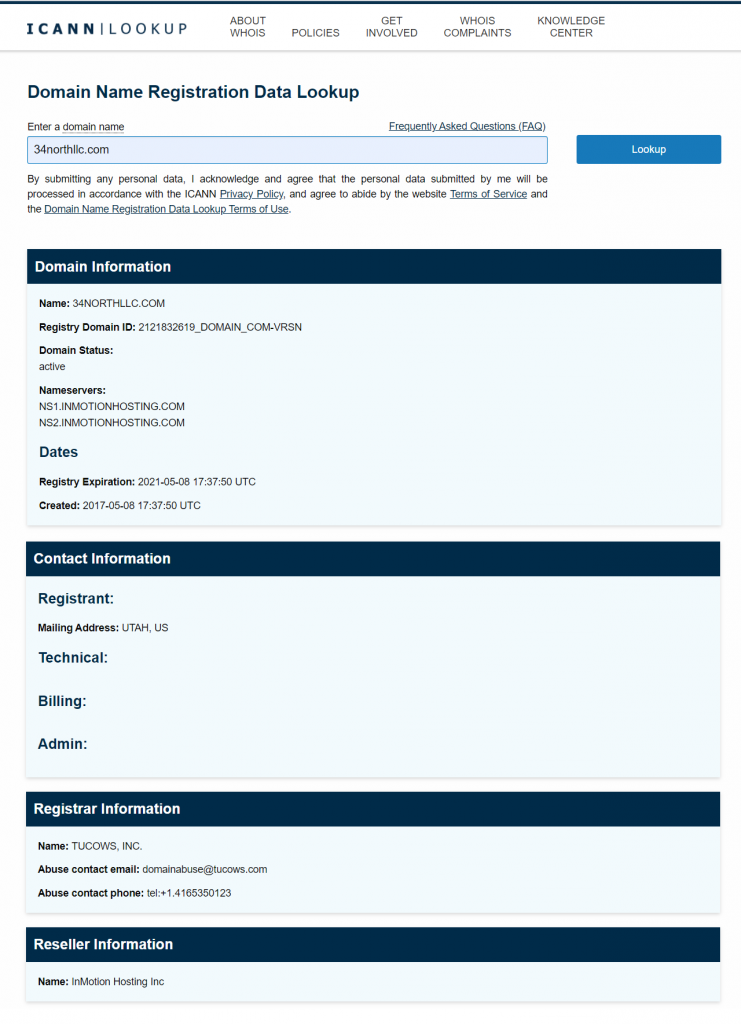 Should I purchase domain privacy?
Due to the GDPR (General Data Protection Regulation), ICANN has temporarily set up provisions to help protect private data from the WHOIS database, but most sites still opt to purchase the protection that domain privacy provides. In the end, it's up to website owners themselves to determine their specific needs for data protection. At 34 North, I include domain privacy with every account that I host, as it adds layers of protection against spamming, data theft, and real-world, threats due to the publication of a user's home address and phone number. Most domain privacy protection plans are available at relatively low cost ($15-$30 per year).
If you have any further questions regarding domain privacy, please contact us and we'll help you determine the best option to meet your needs.