The PageSpeed and YSlow Score can be great tools to review how your site is loading and responding to browsers. At 34 North Web Design, we work with tons of clients who need help optimizing their website. Per the research done by section.io, if a website page takes longer than 5 seconds to load, you are losing 25% of your visitors right off the bat. In addition, your website visitors are 3x as likely to interact with your website and visit more pages if the load time is quicker.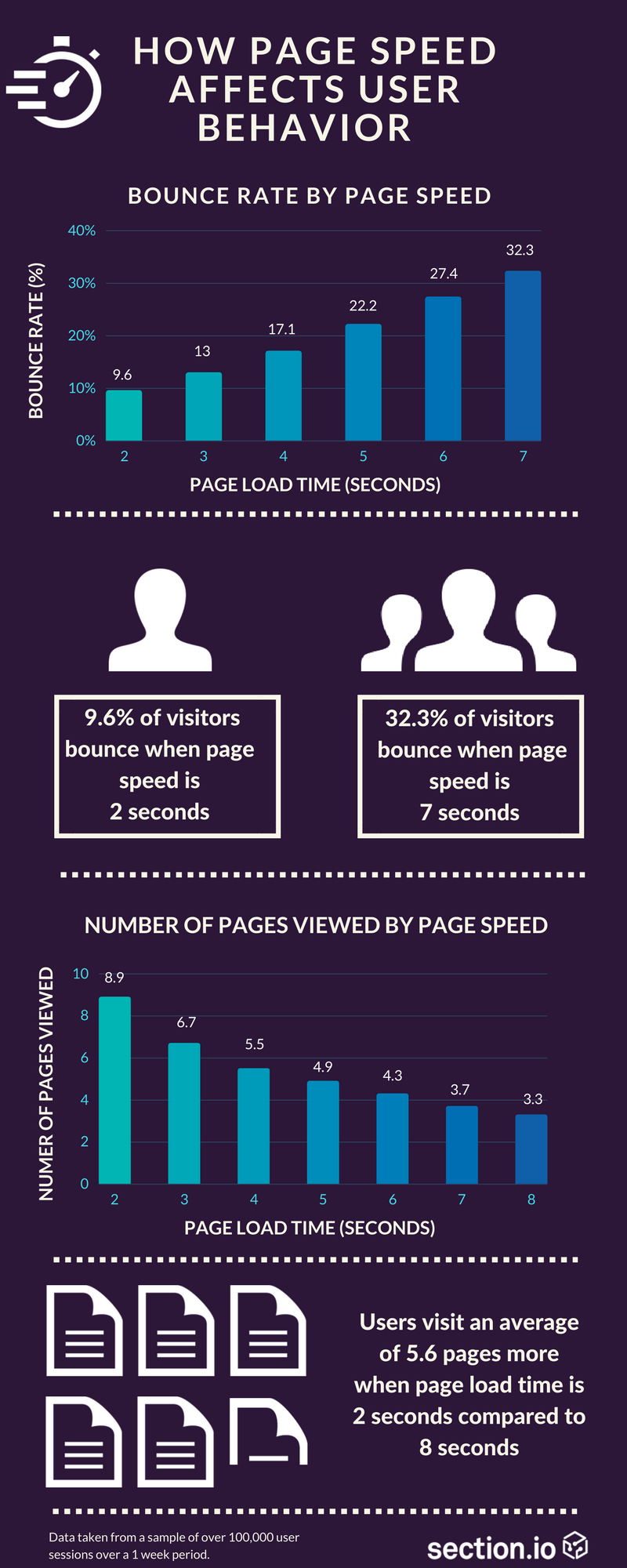 Recently, one of our clients from Southern Tradition Kennels needed some help with their website PageScore. We were happy to help this web client boost that score using a number of methods and plugins. After running their website though an analysis at GT METRIX, we were able to drill down on what exactly needed to be adjusted on their website in order to boost their PageSpeed and YSlow score. As you can see from the results below, there was a little work to be done optimizing some of the website code, some of the images, HTTP requests, and some work do be done on server side compression.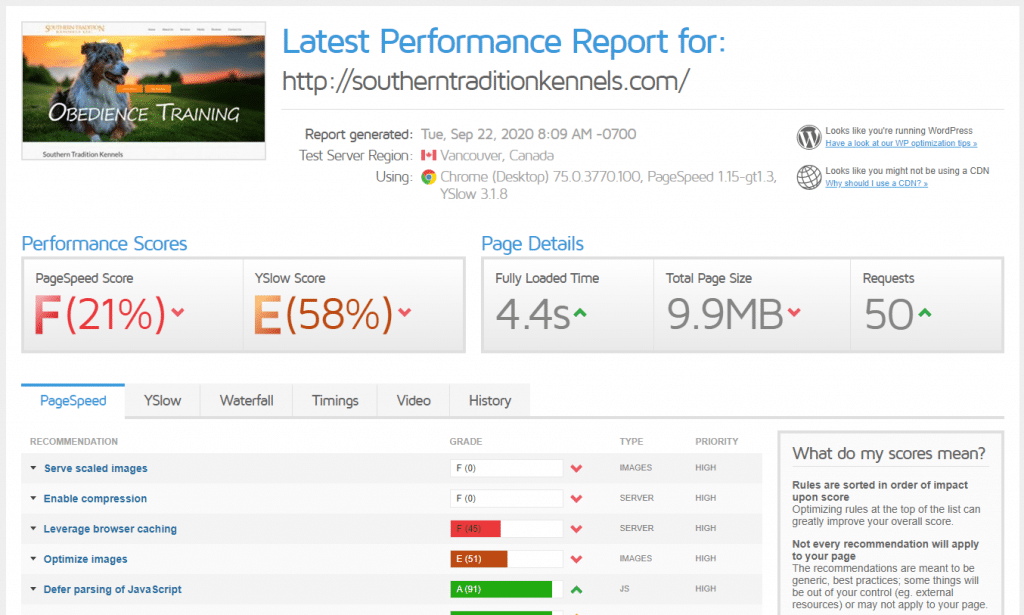 GT Metrix is a great tool for investigating the areas of your website that are affecting the load time of your pages. As you can see, the PageSpeed and YSlow Score were giving us an F and an E score, respectively. After running the report, you are provided a list of recommendations that points out what areas of your site are optimized and what areas still needs some work. GT Metrix also breaks down the importance of each fix, using a priority scale for high, medium, and low impact of these recommendations.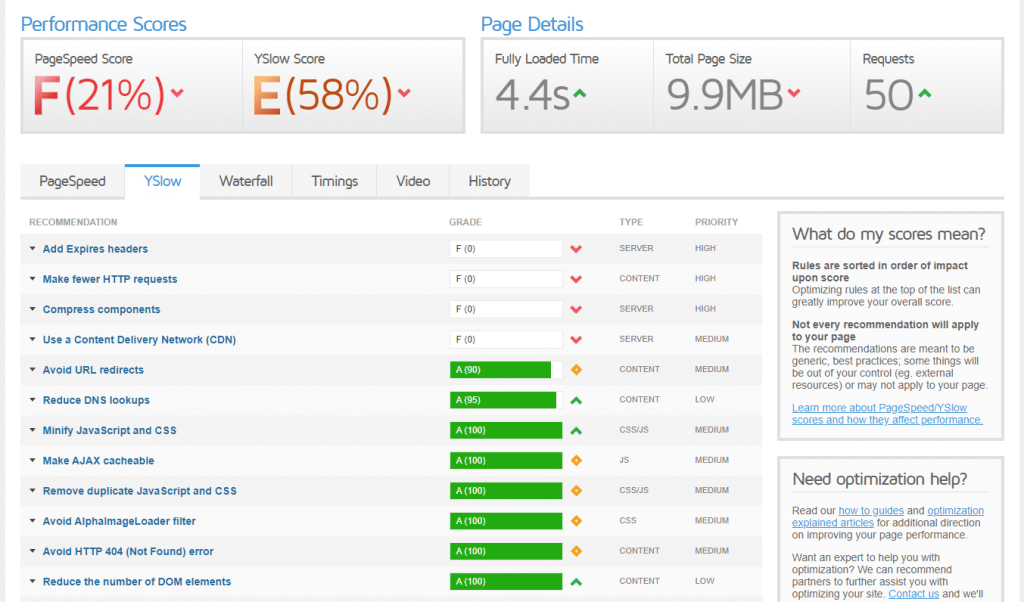 You are able to expand each line item to receive further details on what needs to be fixed. In order to boost the PageScore and YSlow Score of the website, we logged into the cPanel of the website, and enabled server-side compression and downloaded a couple of plugins to help with image optimization. There are free and paid versions of this through sites like Imagify and WP Rocket. The paid versions allow for better compression and more files to run through their program. In addition, WP Rocket can help with combining some of your CSS and JavaScript code for fewer HTTP Requests.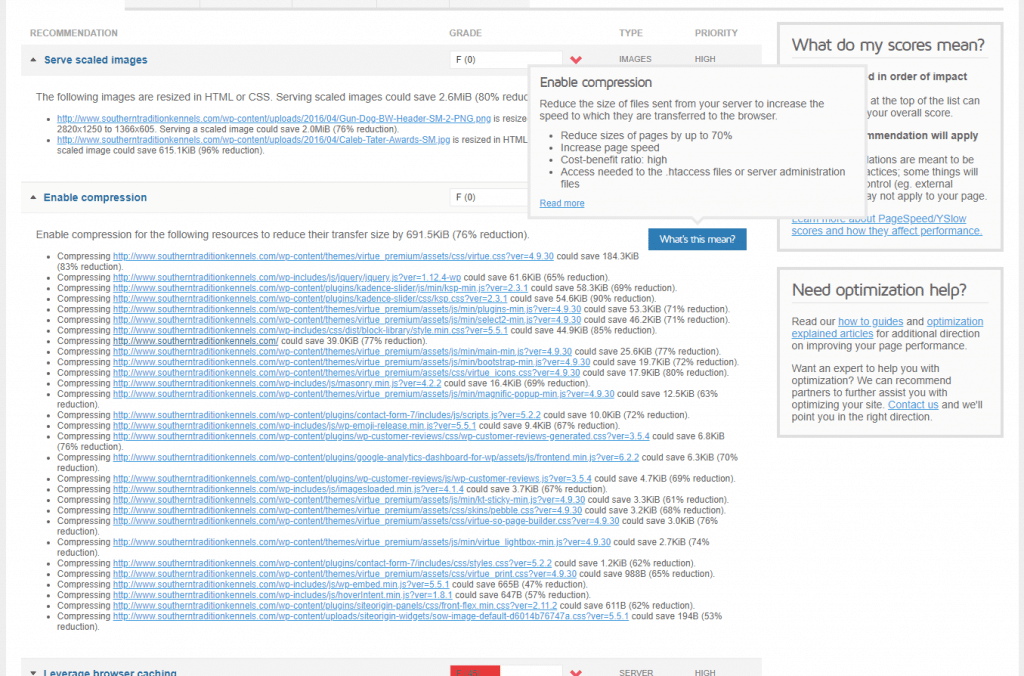 After spending an hour or so adjusting our plugins and server settings, we re-ran the GT Metrix report to get a new website PageScore and YSlow score. As you can see, we were able to drop our page load time in half, drop our http requests by half, and cut the size of the webpage by 75%!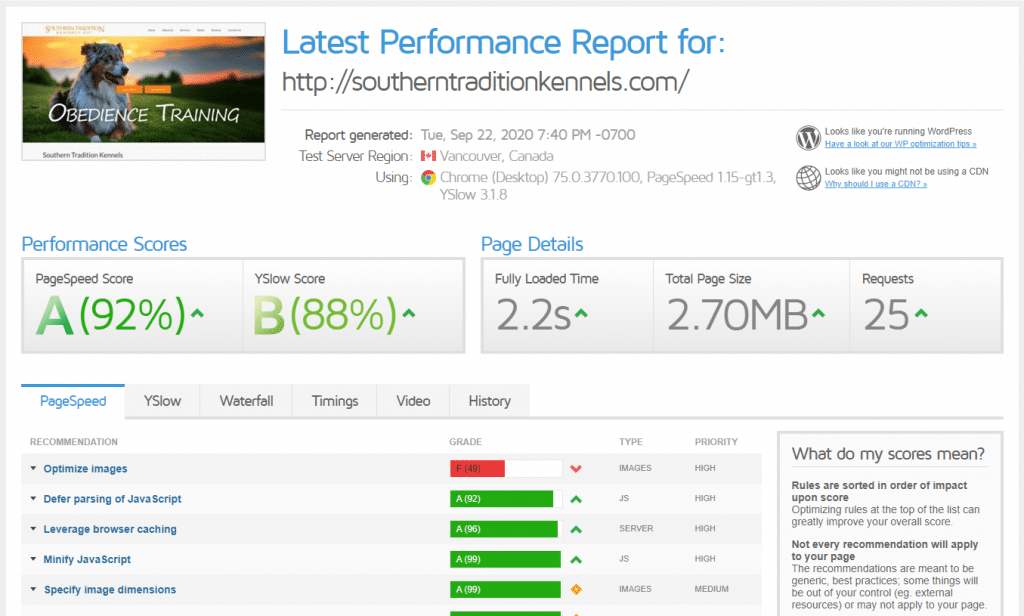 We could still do a little more work on image optimization, and we could do things like host our images and deliver them via CDN service, but the client did not want to pay for any additional services. If you need help with optimizing your website, please give us a call or shoot us an email. We'll be glad to provide you with a report on your site as well as a full list of options to boost your page load time.
Article By: Jesse Williams