Getting Started With A New Website
You're probably here because you are gettings started on a brand new website. In this article, we're going to cover the full scope of what it takes to get started on a new web design project. And, congratulations! This is the first step to building an online presence for your new business or blog.
Nine times out of ten, our clients underestimate what is involved with building a new website. It is quite a bit of work for both the developer and the client. Below, we'll discuss the top 10 topics that you will need to know when you are getting started on a new website. Hopefully, by the end of this post, you will be well on your way to covering your bases when your developer starts asking questions about domains, web hosting, brand identity, and email management!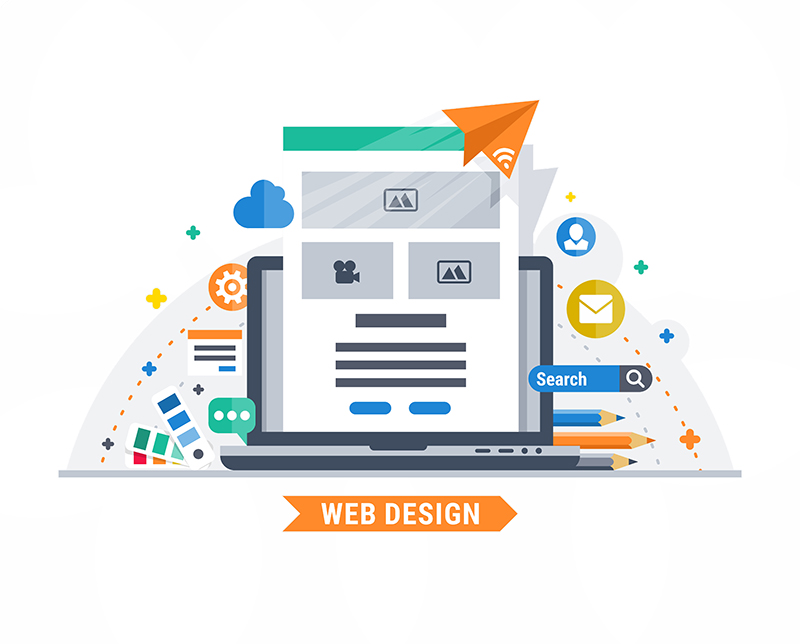 Choosing A Domain Name
Sometimes, choosing a domain name can be a little tricky. There is a good chance that someone else across the country has the same business name as you do. This can make acquiring the domain name you want a little difficult. When starting a new company, it's a good idea to look at domain names to make sure that you are able to buy that domain name for your business. If you are starting to research domain names, Google Domains is a good place to start. Here you can type in the domain name you desire and find out if it's available. Google will help provide insight into your domain name so that you can make the best choice. You are also able to purchase the domain from Google, but (pro tip) if you building a website with 34 North, contact us first so that we can bundle that domain name with your hosting account! If you have questions about choosing the right domain name, feel free to contact us and we can help you make the selection.
Here's the shortlist of things not to do when choosing a domain name:
Do not use numbers (oops!)
Do not use hyphens.
Do not use trademarks.
Do not use hard to spell words.
Do not use homophones.
Do not register a very long domain.
Hosting Your Website
Most folks don't have any clue about what their website hosting needs will be. The main thing you need to make sure of is that your website host is reliable and can handle the traffic that will be coming into the site. The primary factors to consider would be:
1.) Reliability, Uptime, & Security!
2.) What are the registration and maintenance costs?
3.) Are there account limitations?
4.) What are the email options?
5.) Do they have good customer service?
34 North provides VPS hosting through our servers at InMotion. InMotion is a top-tier provider with outstanding support and reliability. VPS hosting stands for Virtual Private Server, meaning that your website is not going to be shared with hundreds of other websites that you have no affiliation with. Most of the time when we talk to clients who already have a website, but need a redesign or website support, they have a shared hosting account with Godaddy or Blue Host. While your website may be fine, other websites on shared hosting can be in bad standing and could potentially get your shared IP blacklisted. When hosting with 34 North, you will only share space with the websites that we have built and currently have an account in good standings with us. Our VPS servers are fully backed up and have 6GB of Ram, with 6 CPU Cores and tons of space per account. You can read more about our VPS hosting HERE.
Email Accounts
When setting up a new website and a new hosting account, we will discuss which domain-based emails you will want to use for your website. Will you need John@yourdomain.com or Orders@yourdomain.com? Just think it over…We can set up as many email accounts as you need. We do recommend that you manage your email accounts through Outlook or Gmail. With Google Workspace, you can set up all of your email accounts and manage those services from your Workspace account. If you need help setting up your Gmail or Outlook to send and receive your domain-based emails, please check out our article on setting up email accounts (coming soon). If you need help, just give us a call and we can help you get this setup.
Website Navigation & Structure
Have you thought about how do you want your website to flow? We've all been on the internet long enough to know that some websites are just plain confusing to navigate. This is a no-no! We want to make your website easy to navigate. If your potential customers find your website difficult to navigate then you will lose visitors. Your initial navigation structure doesn't have to be set in stone, but it's a good idea to start thinking about the basics. Ask yourself, what pages do you want to include in your website. Traditionally, you may have a Home Page, About Us, Page, a Products or Services Page, and a Contact Page. You may choose to have a sub-menu with links to each category, or a gallery or resources page. The options are endless, but keep in mind that you need to be able to provide quality content for each web page. We can help with the content, but it's best if the business owner can create meaningful content that their customers want to know and read about.
How Soon Do You Need To Launch?
When do you need your website to be up and running? Generally, building a website takes around 4-6 weeks. This gives us time to meet up, dig through your ideas, and put together a plan. We can build a website for you on a quicker timeline, but that will require that we get content (copy and imagery) for all website pages within the first few days of the build. If we set a target launch date, we will divide the project into multiple phases. We will notify the client at each phase so that we stay on target. Clients typically find that they actually need the time to put together the copy for each page of their website.
Content Creation – Writing Copy
This is one of the most important steps in the website building process. Not only will your content engage customers and tell them what products and or services you offer, but your copy will also tell Google what your website is about and that will help with your website's SEO or search engine optimization. Here are a few tips on writing copy:
1.) Develop a voice for your website.
2.) You want to make sure to use keywords or phrases that relate to your business.
3.) Use engaging headers and titles.
4.) Write in simple small sentences.
Click here to read our article dedicated to teaching you how to write copy.
Miscellaneous
There are numerous things to keep in mind when beginning a website and we know it can be a bit overwhelming at first. Just tackle one thing at a time and make sure that you keep these tasks on a list.
Here are a few other points to consider when starting a business and building a new website.
Ecommerce: If you are setting up an online store, how will you be processing payments? We've outlined a few of our favorite processors in this post. How many products might you be selling? We have an excel based product template that we've built for our clients. This helps to organize your product data into a template that we can use to manage your products. There are several other factors that come into play with eCommerce such as how will you ship products, whether you charge tax, do you want to manage stock counts from your website. Have you thought about a refund and returns policy? Click here to download a free shop policy to help you walk through this.
Social Media: Do you plan on setting up a Facebook Page or Instagram page for your business? If so, we will probably need access to link your social media to your website. Make sure that you set up these pages as a business page and make sure you customize the URL to include your company name.

Google My Business: This is one of the most important things you can set up when starting a new business. Google My Business will help a LOT with your local SEO. We talk more about this in our post on why you need a Google My Business account.
Google Analytics: Want to know how well your website is performing? We can set you up with a custom dashboard to tie in your Google analytics and social media user data into a single point of reference. Learn more about our website analytics here
Post website marketing and SEO: Many clients make the mistake of having little or no budget set aside for marketing once the website is finished. In reality, the website is just the beginning of an online campaign. After some time, your website will start to generate organic traffic, but it will need some support in getting top rankings on google. This could be setting up a Google ad or Facebook ads account to target potential customers in your area. This could be joining your local chamber and working with other local business owners on sponsored events to spread the word. You might also consider a radio ad or an advertisement in a local magazine. The point being, many clients think that just because they have a website that they are going to start selling tons of products. This is usually not the case. The website is just one outlet to sell and you will need supplemental marketing to help drive traffic to the website. Setting up a specialized SEO campaign may be a great option to target specific customers searching for key phrases on Google. Please check out our SEO page if you have questions about this.
Well, that about wraps up the basics. I hope that this has been helpful in getting your wheels spinning. When we begin a new website project, we will provide the client with a detailed getting started packet, but this article should help you get a good jump on the topics we will discuss. Please contact us at 34 North if you are looking to get started with a new website!